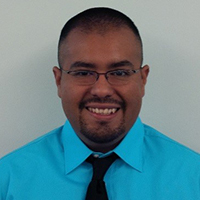 As an employee of AT&T for over 15 years, Antonio's experiences have contributed to his knowledge and understanding of decision making process for today's companies. After 9 years in Retail Sales, Antonio transitioned to Corporate and Small Business Sales as an Account Executive, familiarizing himself with the challenges that companies faced daily. He would consult with business owners, and in many occasions, C-level decision makers, suggesting solutions from AT&T's portfolio of services such as Mobility, Mobile Applications, Cloud Services, and Fiber Broadband.
As of recent, Antonio was promoted to a new position within the Business Marketing Organization of AT&T as a Field Marketing Manager. He has worked for the past 2 years in this position, building relationships with a variety of segments which include Local and Federal Government, Military Bases, Universities and School Districts, and Small and Corporate Business throughout the South Texas market which include Austin, Houston, and San Antonio. Within these relationships, he has worked on implementing marketing tactics to promote discount programs available to these accounts through AT&T, in addition to assisting sales teams in providing solutions to these accounts for their various needs.
His work with Chambers and Associations has been extensive, working with over 15 chambers in South Texas to maintain AT&T's presence, all the while utilizing the benefits that come with the memberships to promote AT&T and grow the business.
Antonio currently resides in San Antonio with his family, a dedicated San Antonio Spurs fan, and loves spending time at home with his 5 dogs.