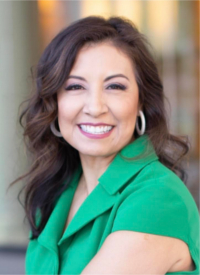 Diana Maldonado
President & CEO
dianam@remove-thisgahcc.org
Diana Maldonado is an extraordinary contributor to our community and leads with grace and compassion through each of her volunteer and professional roles. Over the years, her success comes from listening to people's needs and finding solutions in the process of building thriving communities.
As the first Latina elected to represent Williamson County in the House of Representatives, she advocated for education, business, and safe communities. In this role, she authored/co-authored 88 bills and was named "Freshman of the Year" by her colleagues. Through her collaboration with key stakeholders, she secured nearly $16 million for education, $10 million for road expansion, and additional funds for renewable energy initiatives and walking trails in parks. She served as Secretary for the Mexican American Legislative Caucus, Defense & Veterans Affairs, and coveted State Affairs committees.
From her six years on the Round Rock ISD Board of Trustees and as president, Maldonado oversaw a successful $349 million bond election to build a high school, middle school, several elementary schools, and facility renovation projects to keep up with the growth in one of the premier school districts in the state, while improving academic outcomes and goals.
During her time as a Financial Advisor for one of the world's largest investment firms, she enjoyed guiding individuals through financial planning strategies that prepare them for success now by planning for the future.
Above all else, Diana believes in the importance of family. Her father, a deceased Korean War veteran, always taught her to put her best foot forward and to earn a good education, while her mother was a great role model with a strong work ethic and determination. Diana has instilled these values in her own children, Alex & Denise, and now has the opportunity to develop them in her new granddaughter, Camila.
In her free time, she enjoys travel and the outdoors and even runs destination marathons in places like Paris, New York, and the Sahara desert in Morocco! Her interest in reading has led her to a deeper level of understanding and compassion regarding local and global perspectives. She also finds that writing serves as an outlet to inspire others. She continues to serve on education and leadership boards as President for Seedling Mentors, on the Advisory Council for The Bill Munday School of Business at St. Edward's University, and a member of NALEO. She graduated with a Bachelor of Business Administration, Magna Cum Laude, from St. Edward's University.
Diana is committed to building lasting relationships through trust, integrity, and transparency and is fully invested in improving the quality of life for those in Central Texas.