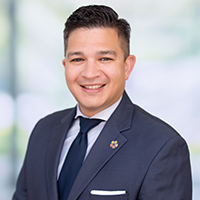 Luis A. Rodriguez
President & CEO
Luis A. Rodriguez serves as the President & CEO of the Greater Austin Hispanic Chamber of Commerce (GAHCC). As President & CEO, he ensures that the GAHCC continues to impact and propel the Austin Hispanic business community through its small business growth, economic development, advocacy efforts and leadership programs. Luis is committed to working with staff to make sure that the GAHCC initiatives and services run with a high degree of excellence that its membership has come to expect and merit.
Luis is a Texas native of the city of San Antonio. Throughout his academic and professional career Luis has been strongly committed to business development, strategic relationship building, and economic development by working with organizations dedicated to these various endeavors.
Prior to joining the Greater Austin Hispanic Chamber of Commerce, Luis was the Chief Operations Officer and Vice President of Economic Development for the San Antonio Hispanic Chamber of Commerce (SAHCC), the nation's first and oldest Hispanic Chamber, where he played an instrumental role in leading the organization with major transformational growth including the creation of a new small business incubator - the Maestro Entrepreneur Center, expanding the international trade missions to five different countries, becoming the first Hispanic Chamber in the nation to receive a Five Star Accreditation designation from the United States Chamber of Commerce, and growing the membership base of the San Antonio Hispanic Chamber of Commerce to more to than 1,400 members, a record-level of members. Luis has also been heavily involved in the areas of communication, international business, government affairs and comprehensive community development, which places him a subject matter expert in the aforementioned fields.
Luis was a recipient of the San Antonio Business Journal's 2017 "40 Under 40" Award. He currently serves as a Board Member for Leadership Austin and the Community Advancement Network (CAN). Luis formerly served as an Honorary Commander for the 502d Air Base Wing and Joint Base San Antonio, and served on the Business Retention and Expansion committee (BRE) for the San Antonio Economic Development Foundation (SAEDF), the San Antonio Health Advisory board on behalf of Humana, the SA Tomorrow Comprehensive Plan, the City of San Antonio's Tricentennial Partner Adjudication Committee, and was a member of San Antonio Community Actions Committee (SACAC) with the U.S Army.
Luis' main driving force is his family, he is the proud father of his two beautiful daughters, Ysabella and Madelyn and a loving husband to his wife Yvonne.