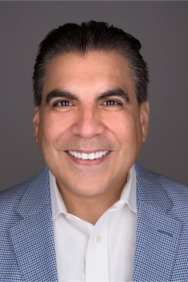 Thomas Miranda
Interim President & CEO
ceo@remove-thisgahcc.org
Thomas Miranda is Founder & CEO of Sparkovation Advisors, a management consulting & technology advisory firm. Thomas has been actively involved in advising startups, CEOs, corporations and investment portfolios on value creation, leadership/talent, business strategy, digital transformation, IT modernization and growth.
Thomas served as an engineer, manager, and executive for nearly two decades within high growth Fortune 100 firms HP, Dell and mostly Cisco. With a penchant for innovation, he has led advanced engineering / R&D teams to deliver successive billion-dollar flagship platforms to market.
He later held Enterprise Strategy and IT Leadership roles that helped transform critical business, enterprise IT & Service functions worldwide. He founded the office of and served as Cisco's inaugural Hispanic employee CTO over the Americas & Europe while working with Cisco Ventures to seed billion-dollar ideas across global markets.
Thomas has been deeply committed to serving his community from the moment he arrived in Silicon Valley to this very day. He's a past Chairman of The Austin Hispanic Chamber of Commerce, served on the Boards of Leadership Austin, Austin Chamber of Commerce, EGBI and currently on the Boards of Mission Capital (Chair), Austin Ed Fund (Immediate Past Chair), Workforce Solutions Capital Area (TWC), Texas Lyceum and the Austin Area Research Organization. He also serves on 5 regional and national advisory boards focused on leadership, technology, entrepreneurship, and education.
He graduated from The University of Texas at San Antonio with a Bachelor of Science in Electrical Engineering and has earned project management and executive leadership credentials from George Washington University, Stanford University and Massachusetts Institute of Technology.