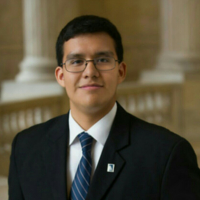 John P. Espinosa
Manager of Public Policy and Economic Development
(512) 476-7502
jespinosa@remove-thisgahcc.org
John P. Espinosa is the Manager of Public Policy and Economic Development for the Greater Austin Hispanic Chamber of Commerce. As the grandson of a Hispanic small business owner, John knows the importance of the role that a business plays for an owner and their family. As Manager of Public Policy and Economic Development, John wants to be an advocate for Hispanic business owners, advance the chamber's mission at all levels of government, and bring opportunities to the members of the chamber.
As a proud native Austinite, John attended Casey Elementary School, Bedichek Middle School, and Akins High School. For college, John attended Texas State University where he graduated Summa Cum Laude with a Bachelor of Arts degree in Political Science and Geography. During his time at Texas State, John had the opportunity to gain experience in the fields of education and government. In the field of education, John has had the opportunity to serve as a peer mentor in Texas State's Minority Male Initiative, where he mentored freshman Hispanic males and helped them be successful in their first year of school and he has also served as an AVID tutor in the Austin Independent School District. In the area of government, John was selected to be a Congressional Hispanic Caucus Institute Intern in Washington, DC during the Fall of 2017. During his internship, John was placed in the office of Congressman Vicente Gonzalez (TX-15) where some of his duties included writing legislative briefs, attending committee hearings, and assisting constituents. Additionally, John has helped co-author two state-mandated reports and he has attended the Hoover Institution Summer Policy Boot Camp. Currently, John serves on the Board of Directors for Austin Sister Cities International.
John discovered his interest in government and passion to serve people during a visit to the Lyndon B. Johnson Presidential Library and Museum when he was eight years old. It was during that visit John saw the impact public service can have on the lives of people. While the years may have passed since that visit, John's passion has not, and he is excited to bring that passion forward to this new position and his role in the community.
For John, faith and family are important cornerstones of his life and he is looking forward to building relationships with the GAHCC family around the Austin-area. Outside of work, John enjoys reading, traveling, singing, watching movies, and rooting for the San Antonio Spurs, Dallas Cowboys, and Austin FC (once they begin playing).