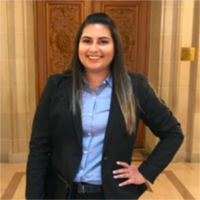 Kimberly Torres-Mendez
Member Relations Coordinator
(512) 476-7502
ktorresmendez@remove-thisgahcc.org
A former intern of the Greater Austin Hispanic Chamber of Commerce, Kimberly Torres-Mendez joined the GAHCC team in December 2019 as the Member Relations Coordinator. Although she is from Kyle, Texas, her dream city and her heart has always been in Austin. Kimberly graduated this past December from Texas State University with a BS in Applied Sociology and a minor in Business Administration. While at Texas State, she was a member of Hispanic Business Students Association and President of the Sociology Club.
Kimberly is highly skilled in business management, operation management, and research. As a Membership team member, Kimberly is working alongside Karlie Ramirez, the GAHCC Director of Membership and Corporate Relations, and Diana Gutierrez, the GAHCC Membership Specialist. Kimberly is proud to be a part of a team that has expanded from a one-superwoman run department, to a team of three.

"I am very excited to be with the membership team," Kimberly said. "We each have our own strengths that allow us to bring more value to our members."
As a Membership team member, Kimberly maintains consistent contact with Chamber members to ensure all Members' needs are met to the highest standard and that they are up-to-date on events, initiatives and programs that can help them to grow their businesses and make new connections.