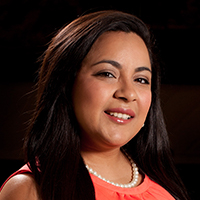 Karlie Ramirez
Director of Membership and Corporate Relations
(512) 462-4305
kramirez@remove-thisgahcc.org
Karlie Ramirez currently serves as at the Director of Membership and Corporate Relations. She previously served as the Membership Relations Manager and GAHCC 2015 Summer Intern as Assistant Director of Events where she cultivated key relationships with the GAHCC's members. Karlie also supported other areas of the Chamber throughout her internship. Karlie's value-added efforts were ultimately recognized when she was named the GAHCC 2016 Volunteer of the Year at Celebrando Austin this past August.
Karlie is a graduate of Texas State University where she received her Bachelor of Business Administration. She majored in Business Management with a Concentration in Entrepreneurial Studies. While at Texas State University Karlie actively participated and lead numerous volunteer events within and around the San Marcos community which included; the annual Sacred Springs Powwow, School Fuel, Adopt-A-Highway, and Bobcat Build. During her time at Texas State University she was very active with the Hispanic Business Student Association, serving as the Director of Recruitment and Retention, Vice-President, and ultimately President for the 2015-2016 academic year. During her time with HBSA she cultivated relationships with Latina entrepreneur powerhouses such as Maria Rios and Nina Vaca through the combined efforts of the GAHCC. Under her presidency the organization received both the "Professional Organization of the Year" and "Organization of the Year" awards.
Karlie has a strong passion for volunteering and helping small businesses succeed especially in the Hispanic community. She believes that having a strong and healthy surrounding community is an essential key to a business's success.
On her free time Karlie enjoys catching up with family and friends! Especially her parents and sisters! She enjoys watching Baseball with her Dad and making crafts with her Mom!